Insights
Data ethics – will it make you or break you?
Developing a principles-based approach to data ethics
Key take-aways
Think of data ethics as a sub-set of a broader set of ethical decisions
Ask "Should we do this?" – not, can we?
Use principles as a way to share a broader set of guidelines for the organisation
Create broad buy-in by designing those principles with the teams that will deply them
Employ those principles when designing policies and governance approaches
Customer data – the risks and ethical dilemmas
Most organisations are challenged by the current data landscape, and the risks it presents.
As customer data held by organisations proliferates, consumers are becoming increasingly concerned at the use and protection of their personal information. The reputational risks associated with the misuse or mishandling of data in this regard, are high. As recent examples have shown – both customer value, and shareholder value are at risk.
Conversations about the risks stemming from poor data practices are becoming increasingly common at Board level, as Directors seek to ensure that adequate measures and controls are in place.
Many of the risks relate to ethical choices around the way in which customer data is used.
Having a well-defined 'north star' to guide decision-making in data ethics not only mitigates risks but can enhance your organisation's reputation and even drive a more trusting relationship with your customers.
The proliferation of data – and the risks it creates
Access to and use of data is becoming increasingly complex and sophisticated
Today's organisations have access to more data than ever before, driven by the rapid growth of connected devices, digital transformation, and the increased sharing of public and private data sets. Organisations are leveraging data in increasingly complex ways to:
Understand customer needs and behaviour
Personalise interactions (from marketing through to service delivery); and also
Improve revenue and profitability
Customers have growing concerns about the capture, use and storage of data
Consumers are becoming increasingly concerned about the amount of data that organisations collect.
A US survey by KPMG found that 40% of respondents did not trust organisations to use their data ethically. Large-scale data hacks have also heightened consumer anxiety when it comes to their personal data.
Reputation and trust are lost quickly, when mistakes are made
A recent survey by McKinsey found that 40% of consumers stopped buying from a company when it violated their digital trust.
In addition, 14% of respondents stopped doing business with an organisation when they disagreed with its ethical principles. Heavy use of social media also means that if something goes wrong – word spreads quickly.
However, data ethics is not purely about risk mitigation
Research undertaken by Gartner3 infers that as the maturity of data ethics increases, an organisation can start to create value, via ethical decisions and solutions.
Digital trust, underpinned by the ethical use of data, is of increasing importance to consumers – and can even be a point of differentiation.
Thinking differently about data ethics
"Should I do this?" is the key question
At its heart, data ethics is concerned with answering the question "Should I do this?" rather than "Can I do this?", especially when considering new use cases.
Good data-ethics practice also focuses on your intent to use data rather than simply your capability to do so.
Data ethics should extend beyond AI, considering a variety of use cases
The rise of Artificial Intelligence has spawned a plethora of ethics-based conversations. Ethics is clearly of high importance – yet SPP believes that organisations need to adopt a more expansive approach to data ethics, considering a broader set of use cases and solutions that aren't necessarily driven by any one particular type of technology.
The next step – a set of principles, built on themes
Create a clear set of principles that an organisation can hold itself to
An agreed set of data ethics principles provide a strong foundation against which an organisation can hold itself to account. A small number of well-articulated principles can enable organisational intent to be more easily communicated, to all employees.
The same set of principles can also be used with customers and external stakeholders, as required – and are easier to communicate, and understand, than a detailed policy document.
Build around common themes
SPP research suggest there are common themes in the creation of a set of data-ethics principles.
An analysis of data ethics policy from both public and private organisations identified 5 of the most common themes – see Exhibit 1 below.
Exhibit 1 – Common Data Ethics Principles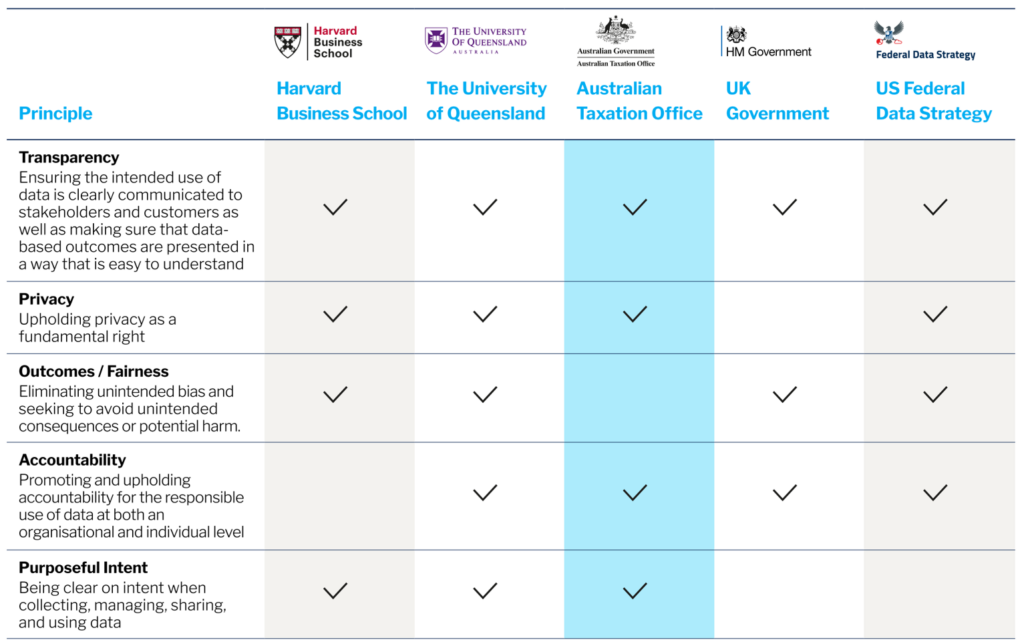 Principles can be tailored to consider your unique circumstances
Ultimately principles need to be tailored to ensure they fit well within the context of your organisation and align to your values.
In doing so, they will become more meaningful and relatable for employees and also for your customers. So our most commonly identified themes are but a starting point.
A principles-based framework can adjust and grow over time
Data ethics is an emerging field without a prescriptive playbook. Data ethics decisions can be subjective, require judgement, and the topic is not well suited for regimented processes and checklists.
Given the subjectivity and potential complexity of decisions that need to be made, a principles-based foundation is critical to success.
What does good look like?
Organisations should target a desired level of data ethics maturity
Organisations can start by defining a target state of maturity to aspire to. This will in turn, get embedded in any new ways of working, and should also be reflected in over-arching governance approaches.
Data ethics can be incorporated into a variety of organisational activities
Data ethics principles can drive the design and incorporation of ethical approaches in a range of business activities. Areas to consider initially include:
Exhibit 2 – Activities to consider

A checklist
Five steps to getting underway
Five steps can get an organisation off to a great start in establishing principles and commencing an effective data-ethics journey. Taking some steps forward in each of these areas can help your organisation make a positive advance on a slightly complex, but rewarding topic.
Exhibit 3 – A checklist for getting started
1. Assemble the right team to get started
Establish a cross-functional working group with representation from different facets of your business from front-line roles through to support services including risk & compliance.
Ensure you involve team members with varied backgrounds and experience to bring diversity of perspective and thinking.
2. Develop a tailored set of principles aligned with the nuances and values of your organisation
Consider the distinct landscape your organisation operates in, your customers, and the partners that you work with.
Align the principles to support and deliver on your organisation's values.
3. Seek the support of your executive team to champion the cause
Consult with the executive team early and bring them on the journey from the start.
Focus discussions on the benefits of data ethics, not just the risks of getting it wrong
4. Ensure your implementation approach takes advantage of activity already underway
Most organisations have inflight initiatives around data.
Do not be afraid to piggyback on these (e.g., data literacy training, data governance programs etc.) to launch your data ethics implementation approach.
5. Encourage ethics as part of the day-to-day conversation
Integrate data ethics into the learning and development programs of your organisation.
Share stories on data ethics and celebrate and reward those that follow the principles, especially in difficult situations.
Promote conversations that ask, "Should we do this?" rather than "Can we do this?".
Key Contacts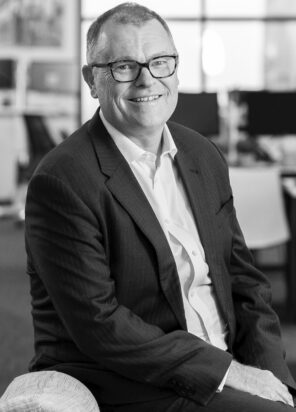 Phil Noble is the Founder and Managing Partner of SPP. He is an experienced General Manager, Consultant and Entrepreneur and has worked in a wide range of industries including financial services, telecommunications, infrastructure and Not for Profit.  Phil has...
Connect on email
Connect on LinkedIn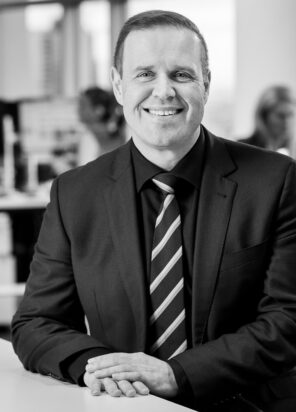 David Mackay is a Partner at SPP and he leads SPP's Sports, Media & Entertainment and FMCG/Retail practices. David assists organisations to develop and execute business and technology strategy, and improve business performance through people, process and technology. David...
Connect on email
Connect on LinkedIn