Insights
The Heliograph: A Framework for Data Initiatives

ARTICLE SUMMARY
As technology capability matures, Government is increasingly reaching out to data analytics and large, joined-up data sets as a way to solve complex problems – from justice and health, through to education and transport.
SPP's government practice has developed a framework that can guide successful Government analytics programs – especially those that require cross-departmental collaboration.
The Heliograph is based around a number of inputs that SPP has found, through project work and conversations with Clients, to be the drivers of success for data-related initiatives.
These are:
People with the right experience and mindset;
Partnerships with collaborative partners with a flexible mindset;
Investment commitment over the longer term;
Technology that enables, not disables, the outcome, through agile partners; and,
Strategic focus a sharp focus on the outcome.
"We're finding the appeal of this framework is two-fold," says SPP Managing Partner Phil Noble.
"Firstly, the framework focuses heavily on what you need to have in place to make a cross-government program work – not so much on the ideal 'technology state', which is where many frameworks focus".
"Secondly, the framework is also predominantly about the value you can get by driving decisions based on experience, rather than on any step-by-step process".
Heliograph can also help to solve problems that have been difficult to solve in the past, adds SPP's Government Principal, Tim McMaster.
"Data sits in different government departments and, historically, those databases have been siloed and hard to join up. But now the technology is available to join these data sets, often quite easily – so the challenge is not so much the technology, but working collaboratively with others, and getting to the right outcome."
Tim adds – "What we also often come across is that organisations do not have enough of a long-term view on the investment required, and that kind of pragmatic insight usually comes from experience in managing these sorts of projects before, and what to expect at each development stage."
A simplistic example might be to focus in on the early indicators of a given health problem or issue in a given community.  Often the indicators are well known, and a minimum viable product approach can help get to some useful initial solutions, fast.  However, to make this a strong, ongoing operational process requires greater focus and investment appetite than many are willing to make.
SPP looks forward to sharing more insights on The Heliograph and other useful frameworks in future.
Key Contacts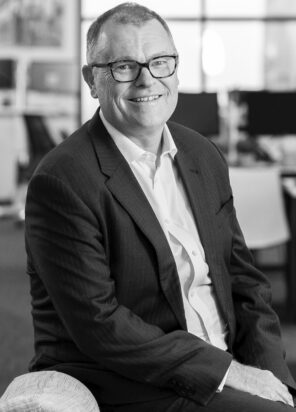 Phil Noble is the Founder and Managing Partner of SPP. He is an experienced General Manager, Consultant and Entrepreneur and has worked in a wide range of industries including financial services, telecommunications, infrastructure and Not for Profit.  Phil has...
Connect on email
Connect on LinkedIn